Edit Menu
The Edit Menu can be used to access actions related to the clipboard, undo, and miscellaneous text editing.
When this menu is selected, the options shown below will appear.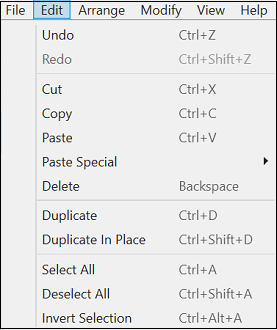 Click on the name of the menu item to find out more details about what action occurs when it is selected.
| Menu Item | Description |
| --- | --- |
| Undo | The Undo menu item removes drawing changes in the order they were applied, starting with the most recent. |
| Redo | The Redo menu item reapplies drawing changes in the order they were removed, starting with the most recent. |
| Cut | The Cut menu item removes the currently selected item from the active drawing and places it in the clipboard. |
| Copy | The Copy menu item places a copy of the currently selected item into the clipboard. |
| Paste | The Paste menu item adds the most current item residing in the clipboard to the active drawing. |
| Paste Special | The Paste Special Submenu contains special options related to pasting the contents of the clipboard into the active drawing. |
| Delete | The Delete menu item permanently removes an item from the active drawing. |
| Duplicate | The Duplicate menu item creates a copy of a selected item in the active drawing. |
| Duplicate in Place | The Duplicate in Place menu item creates a copy of a selected item and places it in the same location as the original. |
| Select All | The Select All menu item selects all items residing in the currently active drawing. |
| Deselect All | The Deselect All menu item deselects all items residing in the currently active drawing. |
| Invert Selection | The Invert Selection option deselects currently selected figures within the active drawing and selects all figures that were previously not chosen. |
---
Table of contents
---